SCT Sylvan Green Travel Award
---
Who is Eligible: 
Physicians and Dentists involved in clinical trials or epidemiology projects.

Appropriate topics for Submission: 
All clinical trial-related issues such as study design and data analysis methods; meta-analysis; medical, ethical or legal issues; data entry, management, and computing as it relates to clinical trials; review of the results or methods of a class of trials; or scholarship in the history of clinical trials. Important papers illustrating applications are particularly encouraged.

---
About Sylvan Green, MD
The Society made its first Sylvan Green award in 2011 to honor the legacy of Sylvan Green, MD who served as President of the Society in 1994, Chaired the Education Committee from 1994-2001, led the Student Scholarship Committee from 2003-2008, and was named an SCT Fellow in 2007. 

Serving 24 years in the Biometry Branch of the National Cancer Institute, including leadership in Clinical and Diagnostic Trials Section, Dr. Green made numerous landmark methodology and practice contributions to clinical trials. He was a professor at Case Western Reserve University School of Medicine from 1997 to 2002 and Professor of Epidemiology and Biostatistics - College of Public Health & inaugural Linda McCartney Breast Cancer Chair in Biometry, University of Arizona, Arizona Cancer Center from 2003 to 2008. 
2020 Winner 
Chengwu Yang, MD, MS & PhD (Biostatistics)
Connecting Randomized Controlled Trials (RCT) and Real World Studies (RWS): Seamless Design and Implementation, with Illustration of a Large Child Abuse Prevention Study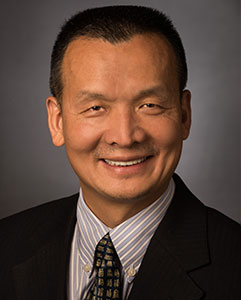 Bio:
Trained in both Medicine and Biostatistics, Dr. Yang admires and shares Dr. Sylvan Green's vision of applying biostatistics to medical research. With over two decades' professional experience, Dr. Yang is a clinical biostatistician, psychometrician, measurement specialist, as well as an independent researcher.
The interplay between clinical medicine / dentistry and applied biostatistics has always been the backbone for his research, demonstrated by over 70 peer-reviewed publications, 19 as the leading author.
Dr. Yang has broad research interests, including but not limit to design and analysis of clinical trials and epidemiological studies, patient-reported outcomes (PRO), and clinical outcome assessment (COA). He is The Statistical Editor for the journal of Muscle & Nerve, and Research Associate Professor in the Department of Epidemiology and Health Promotion, New York University College of Dentistry.