SCT Sylvan Green Travel Award
---
Congratulations to the Winner of the 2021 Sylvan Green Award!
---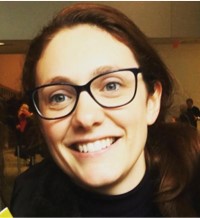 Lara Philipps
Institute: Institute of Cancer Research – Clinical Trials Statistics Unit

Bio:
Lara Philipps is undertaking a PhD at the Institute of Cancer Research in the efficient collection of toxicity data in clinical trials. Prior to commencing her PhD she has been practicing in clinical medicine for 8 years with 4 years as a clinical oncology registrar, providing her with an insight into the patient journey through treatment.


Title:
Study within a trial comparing electronic versus paper patient reported outcome collection
Introduction:
Within oncology trials patient perspective and survivorship effects are important considerations in evaluating new treatments (2). Patient-reported outcomes (PRO) are collected using validated questionnaires that measure the impact of treatment and health conditions on quality of life. The majority of cancer clinical trials currently utilise paper questionnaires, a time-consuming data collection process. Streamlining via electronically-collected PRO (ePRO) may improve convenience, efficiency and lead to more complete data (3)(4).
Although ePRO have been widely studied in the general clinical setting there is little published literature demonstrating that they are as effective as paper PRO within clinical trials with the associated additional research ethics, governance and regulatory requirements. Our study-within-a-trial (SWAT) will test implementation of ePRO collection.
Methodology:
A survey has been collaboratively designed with the charity Independent Cancer Patient's Voice assessing attitudes regarding health questionnaires amongst members of the general public. Survey participants may opt to participate in a focus group supporting development of the SWAT.
The SWAT will compare electronic versus paper PRO collection within randomised controlled cancer trials. The design is a partially-randomised patient preference trial to ensure that "real-world" data is collected and to prevent participants being excluded due to lack of internet access.
Eligible patients will be participants of a host trial within which the SWAT is embedded. They will either be randomly allocated to electronic versus paper PRO, or will receive their preferred modality if they are unsuitable to be randomised. All participants will complete a paper baseline questionnaire and will then receive questionnaires either electronically via a secure online database or on paper at appropriate time points for the host trial up to 12 months. All participants will receive a paper questionnaire assessing satisfaction of the modality of PRO completion at 14 months post-enrolment.
The primary endpoint is patient compliance (% questionnaires returned out of those expected) at the host trial's first post-intervention PRO time point, and the aim is to test for non-inferiority of electronic versus paper PRO.
It is unknown what proportion of participants will accept randomisation versus having a preference. Therefore, the sample size required for the randomised cohort has been estimated, and the numbers entering the preference versus sample size required for the randomised cohort has been estimated, and the numbers entering the preference versus randomised parts of the SWAT will be monitored. Currently, compliance with paper questionnaires at the first post-intervention time point in Institute of Cancer Research Clinical Trials Statistical Unit trials is around 90%. With this assumption, 244 patients (randomised 1:1) are required to exclude compliance rates with ePRO <80% (i.e. 10% non-inferiority margin), with 80% power and 1-sided alpha=0.05.
Secondary endpoints include comparison of distributions of domain scores and item responses between electronic and paper questionnaires at key time points and in relation to baseline paper questionnaires, compliance at further time points within the host trial, data completeness (% of completed items within the questionnaire), and patient satisfaction with both modalities.
Discussion:
EPRO could significantly improve the patient experience within clinical trials. Our work aims to show evidence of non-inferiority of ePRO compliance as part of a roll-out within clinical trials.
Eligibility Information
---
Who is Eligible
Physicians, dentists, or other health professionals who are engaged as investigators or co-investigators in clinical trials or epidemiology projects.
Appropriate Topics for Submission
All clinical trial-related issues such as study design and data analysis methods; meta-analysis; medical, ethical or legal issues in clinical trials; diversity and inclusion in clinical trials; data entry, management, monitoring, sharing, informatics, and computing as it relates to clinical trials; review of the results or methods of a class of trials; or scholarship in the history of clinical trials. Important papers illustrating applications are particularly encouraged.
Application Requirements
Applicant must be first author on manuscript.
At the time of submission, the manuscript should not be published or accepted for publication in a peer-reviewed journal.
Applicant must be willing to attend SCT 2022 meeting in San Diego (May 15-18, 2022) to present the paper if selected as the winner of this award.
Submissions Should Include
An abstract of maximum 500 words.
A short manuscript of maximum 1000 words not including title, author names, table/figure or bibliography; limit to only 1 table or figure. Preliminary results of the study should be included in the summary where applicable.
The manuscript should be uploaded as a separate file on the submission portal.
Indicate your credentials for eligibility.
You may specify that if your submission is not chosen for this award, you would like it to be considered by the Program Committee for an oral or poster presentation.
How to Apply
Visit the online submission form by clicking here, then click Contributed Sessions.
NOTE: Each candidate can only submit one entry. However, candidates can be co-authors (not first author) on other entries.
What the Winner Receives:
The winner will receive an Award covering travel and hotel expenses to present at the SCT meeting in San Diego, CA in May 2022.
About Dr. Sylvan Green
---
The Society made its first Sylvan Green award in 2011 to honor the legacy of Sylvan Green, MD who served as President of the Society in 1994, Chaired the Education Committee from 1994-2001, led the Student Scholarship Committee from 2003-2008, and was named an 
SCT Fellow in 2007
. 
Serving 24 years in the Biometry Branch of the National Cancer Institute, including leadership in Clinical and Diagnostic Trials Section, Dr. Green made numerous landmark methodology and practice contributions to clinical trials. He was a professor at Case Western Reserve University School of Medicine from 1997 to 2002 and Professor of Epidemiology and Biostatistics - College of Public Health & inaugural Linda McCartney Breast Cancer Chair in Biometry, University of Arizona, Arizona Cancer Center from 2003 to 2008. 
Minority Student Engagement Award
Call for the ED&I Student Award Nomination
The Society for Clinical Trials' (SCT) Equity, Diversity and Inclusion Committee (ED&I) is pleased to announce that we are accepting applications for the 2022 ED&I Student Award. One of the many goals of the ED&I Committee is to promote a diverse SCT membership. To that end, we welcome applicants currently pursuing graduate or professional degrees in epidemiology, clinical fields (e.g. medicine, nursing, pharmacy), biostatistics, statistics, data science, and computer science with an interest in pursuing careers in clinical trials.
Each award will cover meeting registration, a one-year SCT membership, and up to $1600 for travel and hotel expenses to attend the 2022 SCT Annual Meeting (May 15-18, 2022) in San Diego, CA. All awardees will have the opportunity to network with the SCT leadership, members of the ED&I committee, and be recognized during the meeting.
Eligibility for this award will be guided by the definitions of race and ethnicity used by the National Institutes of Health in identifying underrepresented groups in biomedical research. As such, to be eligible, applicants must identify with at least one of the following: Black or African American, Hispanic/Latino, First Nations or Indigenous, Alaska Native, Native Hawaiian, other Pacific Islanders.
Qualified applicants may submit their application by emailing the following information to info@sctweb.org by March 18th, 2022.
Name
Institution Email Address
A signed letter from your advisor at the institution certifying student status
Personal statement describing

a) your interest in pursuing a career in clinical trials and
b) how membership in SCT and/or conference attendance will facilitate your professional development (limit 1000 words total)

A statement indicating whether you plan to attend the annual conference in person
Under-represented group(s) with which you identify: Black or African American, Hispanic/Latino, First Nations or Indigenous, Alaska Native, Native Hawaiian, other Pacific Islanders
---
Please note that applicants may not be current or previous members of SCT.
Awardees will be notified by April 1st, 2022.
SCT Sponsored Webinar Proposal
Instructions:
If you are interested in presenting a webinar for SCT members, please complete the SCT Webinar Proposal Form (Step 1 below) and submit to info@sctweb.org (Step 2 below) for review and consideration by the SCT Education Committee. The Webinar Proposal Form should be no more than two pages long.
Click here for a sample SCT Webinar Proposal Form
. Please contact
info@sctweb.org
with any questions.
---